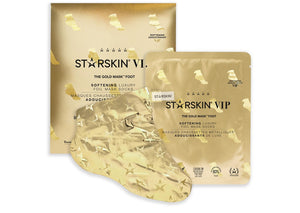 STARSKIN VIP The Gold Foot Mask 16g, Softening Luxury Foil Mask Socks
Tax included.
Shipping
calculated at checkout.
---
---
Description: 
Wrap your feet in gold for the most luxurious foot treatment ever. The Gold Mask™ foil socks contain two layers - an inner layer soaked in a Bulgarian Rose based formula enriched with pure Shea Butter and Rose Hip Oil, and an outer protective foil layer which creates an intense warming effect to maximize absorption. Revitalize, smooth and nourish even the roughest feet and cuticles in just 15 min.
Key Benefits
The self-warming double-layer technology locks in natural body heat to maximize ingredient absorption.
The non-water based formulas have a base of botanical extracts and higher concentrations of vitamins and antioxidants to intensify its benefits, and unlike most water based skincare products, prevent the formulation from diluting and losing efficacy.
Contains Bulgarian Rose water (83%), known for its intensely nourishing, hydrating, and restorative skin benefits.