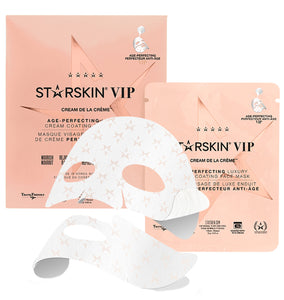 STARSKIN VIP Cream de la Crème Age-Perfecting Luxury Cream Coated Sheet Face Mask
Tax included.
Shipping
calculated at checkout.
---
---
Description: 
Cream de la Crème™ is a one-of-a-kind sheet face mask made of two layers. The inner layer is coated with a remarkable 18g of super-concentrated, luxurious cream while the outer protective layer functions as a shield. This delivery system allows you to force feed dry and depleted skin with almost HALF A JAR of cream in just one treatment to ensure ultimate absorption for spectacular results! Rich in active ingredients, this luxurious, highly-concentrated combines Ginseng and Shea Butter to deliver firm and resilient skin with a luminous glow in just 20 minutes.
Key Benefits
The perfect solution for particularly dry skin, the Cream de la Crème™ Collection are cream based rather than serum based.
High concentrations of fatty acids and vitamins reduce the appearance of fine lines and wrinkles.
Consists of triterpenoids that stimulate the production of collagen.
Contains antioxidants and Vitamin B to combat wrinkles and discolorations.