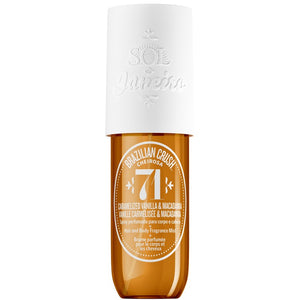 SOL DE JANEIRO Cheirosa 71 Hair & Body Fragrance Mist 90ml
Tax included.
Shipping
calculated at checkout.
---
---
Sol de Janeiro continues its Body Joy celebration with the launch of its newest fragrance, Cheirosa '71. Warm, welcoming and deliciously voluptuous, this new gourmand fragrance serves up a bold new way to be cheirosa (sheh-ro-zah), which in Brazil means to smell incredibly delicious.


Sweet yet sophisticated, this luxurious scent tempts the senses with a complex blend of caramelized vanilla, toasted macadamia nut, sea salt, white chocolate and coconut blossom.
A delectable offering that satisfies every craving.

Our muse for this irresistible fragrance experience is the iconic Brazilian actress Leila Diniz. In 1971, Leila was the first pregnant woman to wear a bikini on the beaches of Rio. At 8 months pregnant, Leila's life-embracing happiness, confidence, and sheer bliss radiated for all to see and admire. A pioneer of Body Joy, Leila's warmth and self-assured spirit are captured in Cheriosa '71, this irresistibly luscious fragrance so full of life and love.

Cheirosa '71 is the birth of a new fragrance and a new way to embrace joyous celebration.

Cheirosa '71
Meet Your Next Craving

Fragrance Notes:
Top: Caramelized Vanilla, Sea Salt
Mid: Toasted Macadamia Nut, White Chocolate
Dry: Tonka Bean, Coconut Blossom
Spritz onto the hair, body and clothes as desired.