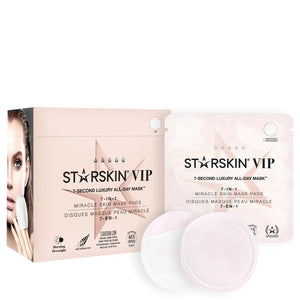 STARSKIN® VIP 7-Second Luxury All-Day Mask 18 Pack, 7-in-1 Miracle Skin Mask Pads
Tax included.
Shipping
calculated at checkout.
---
---
Description: 
7-Second Luxury All-Day Mask™ VIP is a 7-in‐1 beauty innovation that combines the ultimate 7-step skincare routine into one easy-to-use, super-charged mask pad to deliver instantly fresh and dewy-looking skin – within seconds! Use when your regular skincare routine won't do the job or when you're short on time and need to prep for a special event.
Key Benefits
7-in-1 advanced skincare solution for busy lifestyles: Massage | Exfoliator | Toner | Serum | Moisturizer | Mask | Makeup Primer.
Travel-Friendly & portable mask pad thanks to the individually-packed sachets, which assures instantly dewy-looking skin, whenever and wherever you are.
The multitasking easy on-the-go mask pad slims down your skincare routine without sacrificing results.
Each mask is infused with Kudzu Root (66%), known as the "Forever Young Plant" that helps visibly combat signs of ageing by reducing the appearance of wrinkles, fine lines, and crow's feet.
The Kudzu-based formula is enriched with premium ingredients such as Cranberry, loaded with antioxidants to protect cells from environmental stressors, and Grape Seed Extract to soften and smooth the skin.
Ideal for use before makeup application, the pad prepares skin for the day and functions as a primer to enhance the wear and duration of makeup. Expect a bright and radiant complexion that appears healthy and nourished.
Front: Use the pad to massage, exfoliate and tone skin.
Back: Use pad as a serum, moisturiser, leave-in mask and makeup primer.
Use both sides for 7-seconds.